---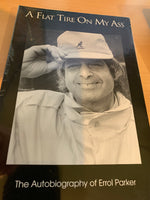 A Fat Tire On My Ass
This is an existential journey through the absurd world of the artist. Errol Parker's first forays in the art world were as a sculptor in post-war France. However, it was his musical abilities that brought him recognition and contact with Django Reinhardt, Don Byas and other leaders on the continental Jazz scene. 
After becoming a best selling recording artist in Europe and driven by a passion to pursue his individuality in improvised music, Errol Parker changed his name, turned his back on a successful recording career and headed off to the United States: birthplace of Jazz, land of opportunity, nurturer of individualism.
Today Errol Parker remains one of the most original Jazz stylists, critically acclaimed but still relatively overlooked by the public.
Errol Parker's accounts, observations and journeys are as unique and as boldly stated as his music.  A narrative that solicited both sympathy and hilarity, this is an inside look at an outsider's experiences in Jazz as he discovers and shapes a new style of music out of the African-American Tradition.
ISBN: 1881993272