---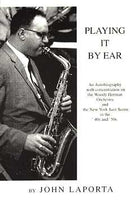 Playing It By Ear - An autobiography with concentration on the Woody Herman Orchestra and the New York Jazz Scene in the '40s and '50s - By John Laporta
About the Author - Composer, Educator, Clinician, Recording Artist, Performer John Laporta has composed/arranged, performed and recorded with Woody Herman, Herb Pomeroy, Kenny Clarke and many more. He has recorded with Charlie Parker, Lester Young, Charles Mingus, Miles Davis, Dizzy Gillespie, Max Roach, Oscar Pettiford, Lennie Tristano, Buddy Rich and Fats Navarro.
John has performed with the New York Philharmonic Symphony Orchestra under the direction of Leonard Bernstein and also was soloist for the Everest Recording of the "Ebony Concerto" by Igor Stravinsky.
He has taught for 35 years at Berklee College of Music, 25 years at National Stage Bank Camps, and has earned the title of Professor Emeritus, Berklee College of Music.
The international Association of Jazz Educators honored John Laporta with the Humanitarian Award at its 1994 Annual Conference in Boston, Massachusetts. John has written numerous graded Compositions for High School Stage bands as well educational texts.
ISBN: 1881993388